HALDON ESTATE
OUR HISTORY
Although Haldon has been a private residence for many years, a little search through the archives shows this is not the first time that vines have been planted here. Alexander Pritchard, the owner of the block before the house was built, had a 9 acre vineyard.
Pritchard sold the land to Frederic Naumann who built the beautiful house that still stands today. Fred was a local German businessman who built the house as a gentleman's retirement home. After his death the house was sold to a well-known Wooragee market gardener named Tony De Campo. De Campo also had a vineyard and winery onsite at Haldon.
See one of the early deeds to the property.
During the 1920's Dave Mortimer lived at Haldon with his family. Dave Mortimer provides our link to Ned Kelly as Dave played the concertina in the pub during the siege of Glenrowan. Ned Kelly said, "You are all better ; get up and dance, to make a miserable life happy". Dave provides 'The Piano Player' moniker for our Rose'.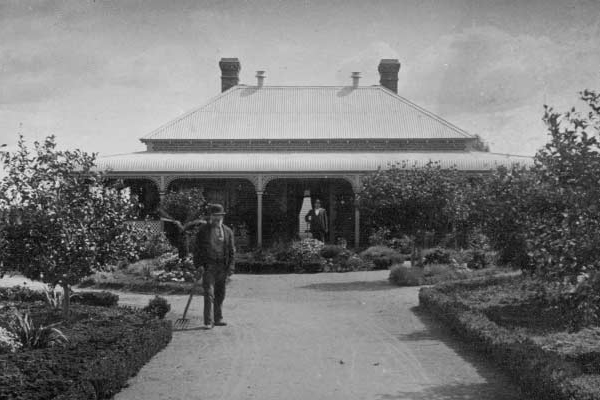 THE VINEYARD
Haldon Vineyard comprises 2.3 hectares of vines at the base of 'Red Hill' in Beechworth. The varieties planted are Chardonnay, Cabernet Sauvignon, Pinot Noir, Nebbiolo, Riesling, Semillion and Sauvignon Blanc. The vineyard is managed along organic principles without the use of pesticides. Weeds are managed manually in the vine rows with hoeing and straw mulch.
The geography and micro-climate of the Haldon Vineyard site means we are lucky with frosts as they tend to flow down our gentle slope without too much effect on the vines. The soil varies across the site with areas of both red and yellow soils on conglomerate.